Entertainment at Quebec: 1765
France ceded New France to the British, after the signing of the Treaty of Paris in 1763. The first known French-speaking professional theatrical performance at Quebec (City) was announced in the Quebec Gazette, April 11, 1765. The advertisement said that a troupe of comedians with the permission of His Excellency the Governor (James Murray) and the Magistrates of the city would give a theatrical performance of Le Festin de Pierre (The Stone Feast) on April 15th, at Jean Roi's Inn. Located in the Lower Town on Saint-Pierre Street, Roi's Inn was known as At the Sign of Quebec.
It is interesting to note that the Governor General James Murray allowed the troupe to give a theatrical performance in the colony, even though Murray wasn't in favor of French-speaking entertainers from France. Dominique's troupe, although they were French-speaking were not French citizens; having experienced political discrimination while touring in Britain before his trip to America, Dominique had reorganized his troupe by using actors who were citizens of Britain, Milan, the Netherlands and Switzerland thus avoiding the French/English conflict. Since the members of the troupe were not French, Murray obviously relaxed his political apprehensions and allowed the troupe to come into Quebec."The political and emotional tension between the French and the English arising from the Seven Years War (1756-1763) as well as the surrender of New France to the British in 1763 was still felt.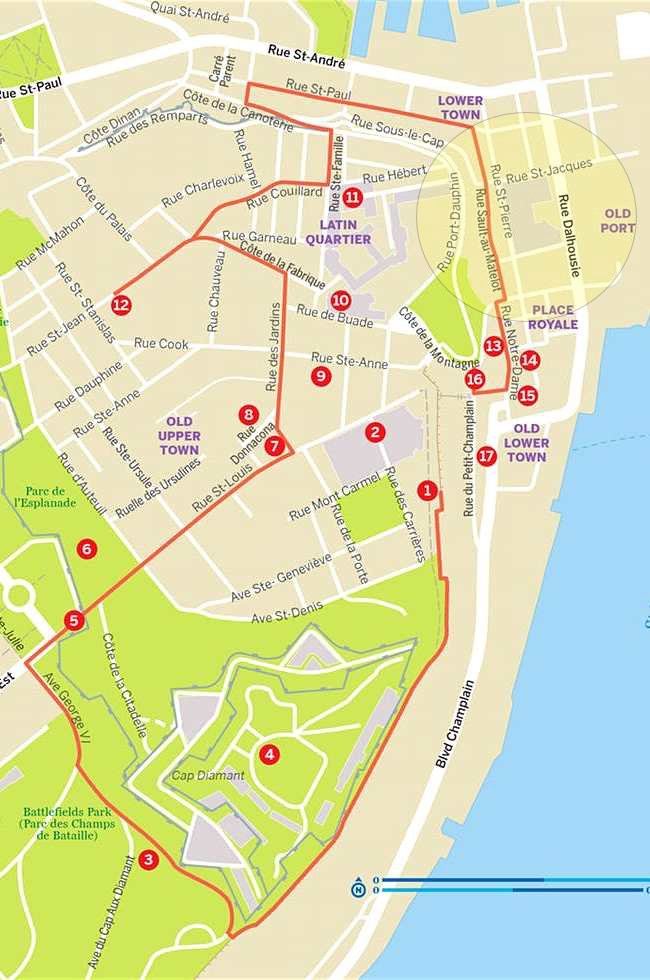 The troupe was managed by Monsieur Dominique, a Swiss actor and acrobat from Bern, Switzerland; it included one woman, Madame Nina, and five men, the "sieurs" Colin, Grivois, Silva, Zeliot and Dominique. Their first performance in America was in 1763 in New York City;  André-Gilles Bourasse, A Swiss Harlequin on a Northern Tour (http//www.theatrales.uqam.ca/fil1.html) it may have been given as part of the centenary celebrations for the capture of New York by the British from the Dutch in 1664. Previous to their arrival in America, Dominique, his wife, and young daughter were members of the Grande Troupe Êtrangère from 1742 to 1751. Operated by the Restier family, the troupe performed regularly at the annual Saint-Germain theatre fairs held in Paris since Medieval times. Philip H. Highfill, Jr., Kalman A. Burnim, Edward A. Langhans, A Biographical Dictionary of Actors, Actresses, Musicians, Dancers. Book The fair was held simultaneously with Easter celebrations and generally lasted three to five weeks. 
During the interlude between fairs, Dominique's troupe travelled throughout Europe and the British Isles in search of performing opportunities. In June and July of 1742 Dominique appeared as a tumbler with Hendrick and Kerman's troupe at Sadler's Wells in London, and in July of 1743, he was at Stoke's Croft, Bristol. In 1744 at New Wells, Clerkenwell (in North London) he threw himself over twenty-four men with drawn swords. The following year his company returned to Stoke's Croft along with his wife and four-year old daughter Polly, who was now performing with the troupe. By 1751 he turned up in Glasgow where he thrilled the Scots by flying over a double fountain.
Entertainment in Quebec – 1765 continued
---
Appendix 1 – Translations
Par Permiffson de Sou Excellence Monseigneur le Gouverneur, et de Meffieur:
les Magiftaits de cette Ville,
Le Sieur Pierre Charties, et fa Troupe Comédienne, fe propof de donner au Public, Lundi prochain, le 15 de
ce mois, une Piece de COMEDIE, intitulée Le FESTIN de PIERRE, fjivie de plufieurs Tours d'Equilibre: –
A la Baffe Ville, à l'Enfeigne de Québec, chez le Sieur Jean Roi, où ces Meffieurs trouveront toutes fortes
de Refraichiffements. — Les Billets fe diftribueront chez le dit Sieur le Roi: Les prix feront de deux
Piaftres, d'une Piaftre, et de duex Chelins et demi.
————–
By Permission of His Excellency Monseigneur the Governor, and of Messieur:
the Magistrates of this City
Sir Pierre Chartier, and a Troupe of comediennes, propose to give to the public, next Monday, the
15th of this month, a Comedy Piece, entitled The Feast of Pierre, (The Stone Feast?) followed by
several Turns of Balance: (acrobatic feats) – a La Baffe City (that will amaze the City), at the
Ensign of Quebec, at Sir Jean Roi,(Roy's) where the Men (patrons) will find all sorts of
Refreshments. Tickets will be distributed at the Sign of Quebec (Inn), Saint Pierre Street, at Jean
Roi's (Inn): The prices (admission) are two dollars, one dollar, and two and a half shillings.